Senior Fellows Lay Groundwork for Mediation Law in India
India is a signatory to the much-acclaimed Singapore Convention on Mediation, which establishes enforceability for cross-border mediated settlements. Interest in mediation is rapidly increasing in India, and the country seeks to ratify the Singapore Convention at the earliest possible date, aligning itself with other economic powers. To that end, in 2019, the Supreme Court of India launched a committee of eight members to work on an initial draft for stand-alone legislation for mediation. Among the committee members are three Weinstein International Foundation Senior Fellows: Justice K. Kannan, Laila Ollapally and Chitra Narayan.
Recognizing the need to help prepare India, a civilization of 1.4 billion people, to accept collaborative conflict resolution, CAMP Mediation, founded by Senior Fellow Laila Ollapally, and IDEX Legal have developed a stimulating Mediation Webinar Series. The series began in September 2020 and will end in December 2020. It consists of six different sessions, held every two weeks, on a virtual platform. Panelists include: former judges of the Indian Supreme Court, eminent attorneys, researchers, policy groups, social philanthropists, mediation practitioners and administrators from around the world. You can access the entire mediation series here.
Mediation series topics: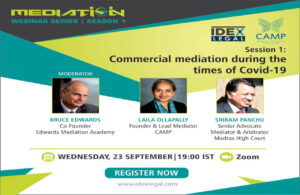 In the first webinar session, Indian mediation thought leaders, Senior Fellow Laila Ollapally and Sriram Panchu, joined Weinstein International Foundation Board Member, Bruce Edwards, to speak about "Commercial Mediation in the Time of COVID-19." The speakers highlighted the differences between "online" and "virtual" mediation and indicated how pleased they were with how quickly mediators have adapted to the digital space. Through practical examples and anecdotes, Sriram and Laila expressed their confidence in the effectiveness of mediating on-screen. They also highlighted the positive aspects of its accessibility and inclusivity. Bruce Edwards confirmed these views, while also cautioning that attention to technology should not distract mediators from perfecting their core mediation skills, which remain absolutely essential in a virtual setting. You can access the first webinar session here.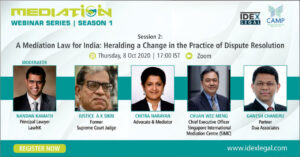 The second webinar session titled, "A Mediation Law for India-Heralding a Change in the Practice of Dispute Resolution," sought to dispel myths, misconceptions and concerns regarding the proposed mediation law in India. 93% of webinar participants voted "Yes" to the question, "Does India need a mediation law?" With the able moderation of Nandan Kamath, that overwhelming "Yes" set the ball rolling for an engaging session with Justice A.K. Sikri, Senior Fellow Chitra Narayan, Ganesh Chandru and Chuan Wee Meng. It is interesting to note, however, that 15% of the webinar participants felt the law might stifle creativity and flexibility in mediation. You can access the second webinar series here.
The webinar series continued with the third session on "Mandatory Mediation-The Push that India Needs?" with Weinstein International Foundation Board Member, Leonardo D'Urso, Justice B.N. Srikrishna and Senior Fellow, Laila Ollapally, in discussion with other senior lawyers and researchers. In this discussion, the speakers mentioned the need to introduce mandatory mediation while clearly defining what 'mandatory mediation' means and mindfully clarifying that it does not suggest coercion or compulsion to continue with the process. An 'opt-out' model was discussed, keeping in mind the Italian model of mediation.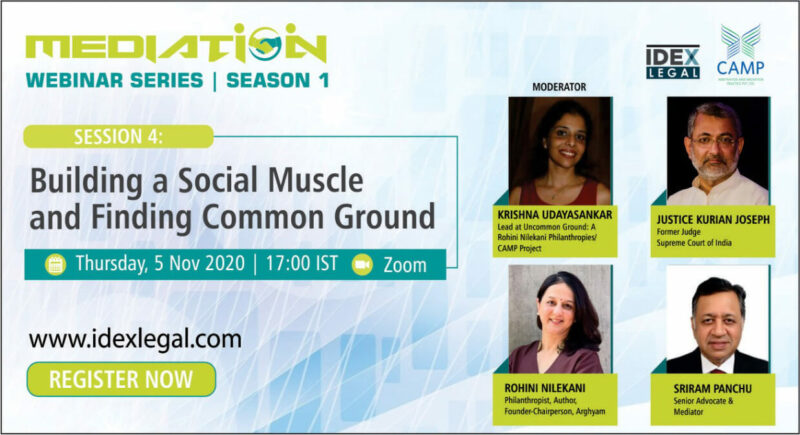 Session 4, "Building a Social Muscle and Finding Common Ground," held on November 5, featured former Supreme Court Justice Kurian Joseph, Sriram Panchu and Rohini Nilekani. The speakers engaged in a discussion about acceptance of mediation in India as it embarks on its journey to find approval and solid ground, through powerful illustrations. 
Session 5, "How Does Private Mediation Work?" took place on November 19, and included Weinstein International Foundation Board Member Bruce Edwards, Senior Fellow Laila Ollapally, John Sturrock QC and Senior Fellow Tat Lim.
Session 6, "Standards of Mediation Practice," scheduled for December 3, includes Laura Skillen, Sadhana Ramachandran and Hiro Aragaki.For information on future webinars and to be added to the mailing list, please email: camponlinemediation@gmail.com. 
You can access the entire mediation series here.
By Senior Fellow Laila Ollapally