DANIEL WEINSTEIN
Founder
Hon. Daniel Weinstein (Ret.) is one of the preeminent mediators of complex civil disputes in the United States. Judge Weinstein is also internationally recognized as one of the premier mediators of complex, multi-party and high-stakes commercial and political disputes. He is the recipient of the 2014 International Advocate for Peace Award from the Cardozo Journal of Conflict Resolution, whose past honorees have included: former Presidents Jimmy Carter and Bill Clinton, Ambassador Richard Holbrooke, and Nobel Peace Prize Winner Archbishop Desmond Tutu. The National Law Journal has recognized him as an ADR Champion (2017-2018). In January 2020, the Straus Institute for Dispute Resolution, Pepperdine Caruso School of Law, presented Judge Weinstein with the Peacemaker Award, its highest honor. The award was last presented in 2013 to Archbishop Desmond Tutu. 
DAVID CARDEN
Ambassador (Ret.) David Carden returned to global law firm Jones Day in 2014, after serving as the first resident U.S. Ambassador to the Association of South East Asian Nations (ASEAN). In recognition of his efforts, Ambassador Carden was awarded the Department of State's Superior Honor Award in December 2013.
LEONARDO D'URSO
Leonardo D'Urso is CEO and co-founder of ADR Center, Italy, one of the most respected mediation centers in the world. Since 1998, he has resolved more than 1,000 national and international complex civil and commercial mediations. With twenty years of full-time work in the field of Alternative Dispute Resolution (ADR), Mr. D'Urso has been responsible for managing ADR Center's strategic activities, the opening of thirty-one Resolution Centers in Italy, and the creation of ODR Center, an innovative cloud platform that manages the mediation process.
BRUCE A. EDWARDS
Bruce A. Edwards Esq. is a pioneer in developing mediation as a tool for resolving commercial disputes in the United States. A professional mediator since 1985, he has mediated over 7,000 disputes throughout the United States, while contributing to a paradigm shift in the legal profession. He has played a central role in establishing the largest and most successful dispute resolution company in the U.S., JAMS, where he also served as Chairman of the Board. In addition to a number of ADR industry related awards received throughout his career, Mr. Edwards received the award of "ADR Champion" by The National Law Journal in 2018.
ROB HAMMESFAHR
Rob Hammesfahr is a strong advocate for the use of mediation and ADR by global reinsurers, insurers and their clients and for reinsurance claims professionalism. He is currently a consultant with HWR Consulting LLC, based in Illinois.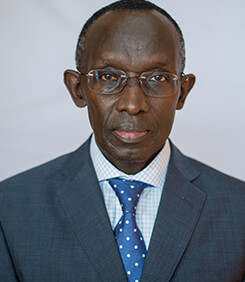 SAM RUGEGE
Justice Sam Rugege retired in December of 2019, after serving eight years as Chief Justice and eight years as Deputy Chief Justice of the Supreme Court of Rwanda. As Chief Justice, he was responsible for developing judicial policy and overseeing judicial reforms encompassing the use of court technologies, continuing legal education and specialized training for judges. Under his watch, access to justice was enhanced through constitutional challenges, public interest litigation and the promotion of court-annexed mediation. He is a certified and registered mediator.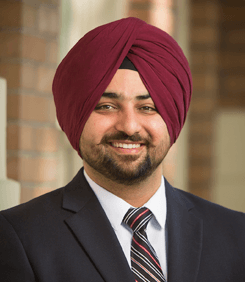 SUKHSIMRANJIT SINGH
Sukhsimranjit Singh is a law professor and Managing Director of the Straus Institute for Dispute Resolution at Pepperdine Law, where he directs the overall vision of the Institute's global outreach, world-class training programs, academics, and professional services. He is an international mediator, who has worked in Canada, India, New Zealand, and the U.S. A regular invitee for keynote addresses, he has lectured or conducted dispute resolution trainings in more than thirty U.S. states, as well as Brazil, Singapore, New Zealand, Australia, India, Canada, China, France, Denmark, Egypt and Spain.
REBECCA WESTERFIELD
Hon. Rebecca Westerfield (Ret.) has been a full-time neutral with JAMS since 1992 and is one of its founding members. She has mediated and arbitrated thousands of complex U.S. domestic and cross-border civil disputes. She has received numerous awards and recognitions, including: Chambers: Leading Mediators, National Journal ADR Champion, Trial Lawyers Association: Mediator of the Year and Best Lawyers: Lawyer of the Year in Mediation. Judge Westerfield is particularly interested in the use of mediation skills and techniques in the making of public policy and in cross-cultural communication.
JAY WELSH
Jay Welsh is an established innovator in the ADR field. After joining JAMS in 1991, he played a prominent role in the growth of ADR within the U.S., as well as internationally. Most recently, as former executive vice-president and general counsel, he led the expansion of JAMS to include twenty-three Resolution Centers around the country and was instrumental in the growth of the company internationally. He was in charge of training all incoming neutrals and all legal issues, and he engineered the acquisition of JAMS from the investment banking firm that had acquired it in 1989.
ANN CLAIRE WILLIAMS
Hon. Ann Claire Williams (Ret.) is Of Counsel at Jones Day, where she leads its efforts in advancing the rule of law in Africa. Devoted to promoting the effective delivery of justice worldwide, Judge Williams has partnered with judiciaries, attorneys, NGOs and the U.S. Departments of Justice and State to design and lead training programs in Ghana, Indonesia, Kenya, Liberia, Nigeria, Rwanda, Tanzania and Uganda. In November of 1999, Judge Williams became the first and only judge of color appointed to the United States Court of Appeals for the Seventh Circuit. She retired from being a judge in early 2018.
ELLEN S. BASS
Executive Director
Ellen S. Bass Esq. is an attorney, trained mediator, and Executive Director of the Weinstein International Foundation. In her role as Executive Director, she manages the Foundation's daily operations and works with the Foundation's Board of Directors and global network of Senior Fellows to implement the Foundation's strategic initiatives, while defining and developing its procedures and programs.

For more information