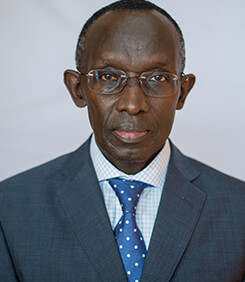 Former Chief Justice of the Supreme Court of Rwanda, Professor Sam Rugege, Joins Foundation Board of Directors
The Weinstein International Foundation is proud to announce that Professor Sam Rugege, former Chief Justice of the Supreme Court of Rwanda, has joined the Foundation's Board of Directors. Alongside Senior Fellows of the Foundation, Justice Rugege (Ret.), has played a leading role in championing the expansion of mediation within Rwanda. This expansion has been a critical component of the country's drive to consolidate peace, stability and amicable resolution of disputes, as well as establish itself as a key economic hub in Africa in the aftermath of the 1994 genocide.
"We are thrilled that Sam Rugege has joined our board. The honorable former chief Justice Sam Rugege is respected worldwide in the field of mediation, conflict resolution and reconciliation and will help lead our Foundation's efforts to bring mediation to many regions in Africa with the same dedication and persistence he has demonstrated in Rwanda. To say we are thrilled to have Sam Rugege join our board is an understatement."
—Judge Danny Weinstein, Founder, Weinstein International Foundation
Justice Rugege retired from the bench in December 2019, after having served sixteen years as Chief Justice and as Deputy Chief Justice of the Supreme Court of Rwanda. As Chief Justice, he was responsible for developing judicial policy and oversaw judicial reforms encompassing the use of court technologies, continuing legal education and specialization training for judges. Under his watch, access to justice was enhanced through constitutional challenges, public interest litigation and the promotion of court-annexed mediation. Now a certified and registered mediator, Justice Rugege was recently appointed to serve as Chairperson of the newly created Court Mediation Advisory Committee.
"Former Chief Justice Sam Rugege has been a lightning rod for change in the Rwandan judicial system and for his commitment to fostering mediation skill development in the Judiciary and the Bar Association. His inspirational and unassuming leadership will be a tremendous asset in the Foundation's effort to advance mediation throughout Africa, and beyond."
—Bruce Edwards, Board Member, Weinstein International Foundation
"Chief Justice Sam Rugege (Ret.) is a judicial rockstar whose extraordinary vision and commitment to mediation in Rwanda has expanded the delivery of equal justice to the Rwandan people. We are so excited that he has joined us with his unique perspective and proven leadership skills as we seek to expand the resolution of disputes through mediation on the African Continent and around the world."
—Judge Ann Claire Williams (Ret.), Board Member, Weinstein International Foundation
Justice Rugege's key leadership in the judiciary has greatly benefitted the expansion of mediation in Rwanda through the implementation of the court-annexed mediation project. The Rwandan Judiciary remains committed to enhancing ADR and mediation, in particular, including referring cases to court-accredited mediators for mediation and public awareness campaigns.
To further these efforts, the Ministry of Justice has initiated a national ADR policy project, with the goal of developing an informed ADR comprehensive plan and a coordinated approach to its implementation at both the local and national levels. As part of this plan, a national mediation policy is now pending approval by the government. If approved, the policy would make mediation mandatory at the pre-filing stage of civil disputes and substantially raise the awareness and use of mediation.
"I am greatly honored and humbled to be a member of the Weinstein International Foundation, joining a highly distinguished group of ADR pioneers. The Foundation is a champion of peaceful resolution of conflicts and other disputes, leading the effort of promoting greater access to justice through mediation and supporting education and training in mediation around the world. Rwanda has benefitted from its programs and I look forward to playing my part in this noble mission, especially in Africa where conflict continues to cause avoidable suffering and hamper development."
—Professor Sam Rugege, former Chief Justice of the Supreme Court of Rwanda
The Weinstein International Foundation is proud to recognize the achievements of Justice Rugege in expanding the use of mediation in Rwanda. The Foundation looks forward to continuing to make mediation more accessible and available in Rwanda through the ongoing contributions of Justice Rugege and Senior Fellows, Harrison Mutabazi, Anastase Nabahire and Bernadette Uwicyeza.