The State of Mediation in India Today
With more than 27 million cases pending in its courts, India faces immense challenges to quick and efficient dispute resolution. There is a growing recognition throughout India that confining dispute resolution to an adversarial system of litigation and arbitration is not tenable. A collaborative dispute resolution process must become the preferred option for many disputes, and mediation is steadily gaining importance.   
Senior Fellows of the Weinstein International Foundation have been instrumental in pioneering the use of mediation in India. In August of 2018 Judge Daniel Weinstein (Ret.) was invited by the Fellows to further promote the benefits of mediation throughout the country and collaborate in several mediation efforts.
In Judge Weinstein's own words, the experience was, "Exhilarating, enlightening, enterprising and encouraging. We are inspired by what our Fellows have already accomplished and excited about continuing to assist them in their efforts to advance the cause of conflict resolution in India."
Following is what we witnessed and learned
One highlight of Judge Weinstein's trip was a panel discussion in Bangalore regarding the prospects and promise of commercial mediation, titled, "Collaborative Dispute Resolution-A Smarter Way To Do Business." The purpose of the panel was to promote the development of commercial mediation in India. The evening was attended by prominent business and legal leaders in the community. Among the panelists with Judge Weinstein were a former justice of the India Supreme Court, senior counsel of the High Court of Karnataka, CEOs of large IT and real estate companies, and Senior Fellow, Laila Ollapally, of CAMP, the Centre for Advanced Mediation Practice.
A keynote moment of Judge Weinstein's visit in Bangalore occurred when he emphasized the potential for mediation to resolve long-standing disputes in the region, such as those between India and Pakistan. This was documented in an article published by The Hindu.
To demonstrate the power of commercial mediation, on a subsequent day Judge Weinstein and Laila Ollapally, co-mediated a case at CAMP in Bangalore, involving a dispute between 5 partners of a coffee company.
Also during his visit, Judge Weinstein and Laila Ollapally were asked to speak at the Advocates Association of the High Court of Karnataka on "How Lawyers Can Win in Mediation." Following their presentation, they met with the Chief Justice of Jammu and Kashmir to discuss efforts to further develop mediation in India.
The Delhi Dispute Resolution Society – Pioneering community mediation centers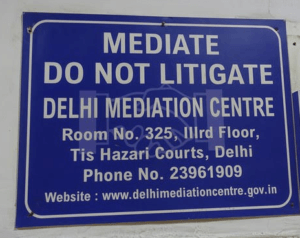 In Delhi, Judge Weinstein was able to finally visit the Delhi Dispute Resolution Society (DDRS), a community mediation program begun by Senior Fellow, Justice M.L. Mehta of the Delhi High Court (Ret.) following completion of his Weinstein JAMS Fellowship in 2009.  DDRS is the first initiative of its kind in India for the introduction of ADR processes, especially mediation and conciliation, to matters pending before the courts, consumer forums and other bodies, as well as pre-litigation matters. These processes are provided at low or no cost to the general public. DDRS engages extensively in community mediation to assist parties in resolving their local disputes and improving access to justice throughout Delhi. 
Judge Weinstein visited a community mediation center in one of the most impoverished areas of Delhi where the center provides services to everyone in the community regardless of race, caste or religion. For Judge Weinstein, personally witnessing the look of relief on their clients' faces as they left the mediation rooms was moving.
In Delhi, Judge Weinstein visited the High Court upon invitation extended by the Honorable Chief Justice of the High Court of Delhi with Senior Fellows, Justices Mehta and Kannan.  Many senior lawyers and judges present at the meeting were able to discuss the future development of mediation in India, and in particular the scope of private mediation.
Judge Weinstein noted during his visit that India's evolution of creating a comprehensive mediation program to complement its court system is far more advanced than he had expected. While the development of commercial mediation requires further effort, the acceptance of mediation as a useful tool, conceptually and institutionally, is widespread.  
While challenges do exist to the usage of mediation across India, and India still has a large backlog of cases, there is well-grounded cause for optimism that the reliance on mediation is accelerating.