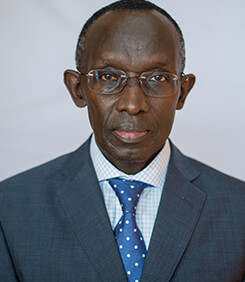 Sam Rugege
BOARD OF DIRECTORS
Board Member Justice Sam Rugege has been widely recognized for his distinguished service and extraordinary contributions to the legal profession in Rwanda.
Justice Sam Rugege retired in December of 2019, after serving eight years as Chief Justice and eight years as Deputy Chief Justice of the Supreme Court of Rwanda. As Chief Justice, he was responsible for developing judicial policy and overseeing judicial reforms encompassing the use of court technologies, continuing legal education and specialized training for judges. Under his watch, access to justice was enhanced through constitutional challenges, public interest litigation and the promotion of court-annexed mediation. He is a certified and registered mediator.
For ten years, Justice Rugege also served as Principal Judge of the First Instance Division of the Court of Justice of the Common Market for Eastern and Southern Africa (COMESA), an ad hoc court that deals with commercial disputes arising in the common market.
Justice Rugege was educated at Makerere University, Yale Law School and the University of Oxford, where he obtained an LLB, LLM and D. Phil, respectively. He began his career as a lecturer in law at Makerere University, before being forced to flee the terror of the Idi Amin regime in 1976. He then taught at the Universities of Lesotho and Swaziland. Before being elevated to the bench, Justice Rugege was a professor of law at the University of the Western Cape (UWC) in South Africa, where he taught constitutional law and post-Apartheid land reform.
While at UWC, Justice Rugege acted as a consultant to the commission that drafted the Post-Genocide Rwandan Constitution, which ushered in a new era, providing for respect for the rule of law, independence of the judiciary, fundamental rights and freedoms, equitable power-sharing, a commitment to national unity, reconciliation and the peaceful resolution of disputes.
Justice Rugege was elected Honorary Fellow of St. Peter's College, Oxford "in recognition of outstanding achievements in the field of law." He was honored by the East African Law Society "in recognition of distinguished service to the legal profession," by the Rwanda Bar Association for "outstanding contribution to the development of the legal profession and the justice sector in Rwanda" and by the Kigali Arbitration Centre for "extraordinary contribution and dedication to the promotion of ADR in Rwanda." He has published several journal articles and presented papers at conferences around the world.