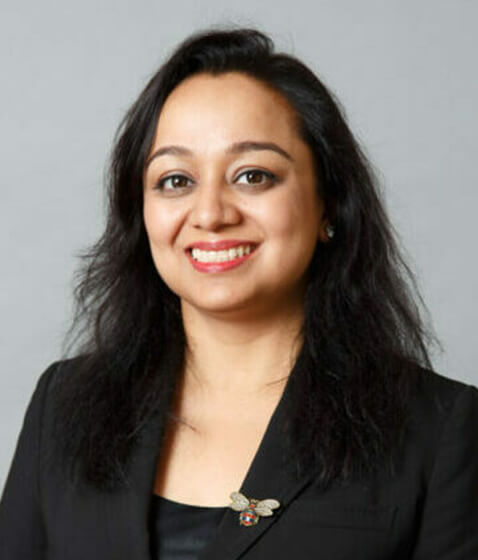 PRACHI MEHTA
Senior Fellow – India
Prachi Mehta is an experienced mediator specializing in complex family matters, corporate disputes, and multi-party, multi-issue cases.
About Prachi Mehta
Prachi Mehta has practiced mediation for 12 years and specializes in complex family matters, corporate disputes, and multi-party, multi-issue cases. In addition to her private mediation practice (The ADR Group "TAG"), Ms. Mehta has worked with Delhi courts as a mediator for the resolution of court referred matters. She has also worked with the Gould Negotiation Centre at Stanford University as a visiting researcher where she conducted research on proposed mechanisms to increase dispute resolution in the Indian corporate landscape.
Ms. Mehta received her formal training in mediation in India, under the Mediation and Conciliation Project Committee (MCPC) established by the Supreme Court of India. She has also trained at the JAMS offices as part of the Weinstein JAMS International Fellows program, and has successfully completed the Advanced Mediation Program at Harvard Law School.
Ms. Mehta trained as a lawyer at New York University and is registered to practice in New York, California, and New Delhi, India. Prior to making mediation her primary area of practice, she worked as an attorney in New York for Davis Polk LLP and Wilson Sonsini Goodrich & Rosati in Palo Alto, California. Ms. Mehta has also worked as a senior consultant at J. Sagar Associates in New Delhi, India.
Mediation Practice
Ms. Mehta founded The ADR Group ("TAG") in 2019, and it is a "one stop shop" for all alternative dispute resolution matters. At TAG, Ms. Mehta has undertaken and successfully resolved several commercial and family disputes in the last year. TAG has also partnered with Art of Living ("AOL"), a non-profit, educational, and humanitarian organization founded by humanitarian and spiritual teacher, Gurudev Sri Sri Ravi Shankar. Through this partnership, TAG has worked on the training and deployment of mediators to reach grass root levels in India and develop community mediation with the aim of making dispute resolution accessible for all.