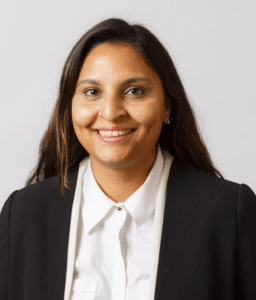 Fellows Feature: Navigating Uncharted Skies: Senior Fellow Dr. Nudrat Piracha is Pushing the Envelope for Women ADR Lawyers in Pakistan
In the first few weeks of Senior Fellow Nudrat Piracha's career in arbitration, office counsel in a high-stakes case kept delaying the handing over of important files, even though the managing partner had directed they be given to Nudrat. When the files were finally handed to her by a colleague, a male lawyer in the office threw the files on the floor, forcing Nudrat to pick up legal documents that were scattered across the room. The lawyer also gave her the office title of "paper-picker," which stuck with her for many years.
At that moment, Nudrat wanted to walk away from her legal career, but a stronger desire prevailed: to fight harder than ever to advance Alternative Dispute Resolution (ADR) in Pakistan and to help make it available to other women. "The acceptability of women in the field is not going to get any better without somebody first breaking through the glass ceiling, and if someone has to do it, why not me?" she remembers thinking.
In a country where only 13% of girls are still in school by 9th grade, ¹ and many receive no education at all, Nudrat was born to parents who luckily had lofty ambitions for her and her three sisters. Nudrat's parents presented her with limited career options, however: a doctor, a civil servant, or a lawyer.
"I wanted to become a pilot," says Nudrat, "but I was told by my parents [that] a pilot is not a profession for women."
Instead, Nudrat chose to become a lawyer. For her mother, who had no formal education, Nudrat needed to become not only a lawyer, but also a distinguished advocate. Becoming a lawyer in Pakistan as a woman requires natural aptitude, skill, determination, and grit. Sadly, law is a male-dominated field in Pakistan, with little or no opportunities for women to grow, and many women do not obtain permission to practice openly in the courts. After Nudrat graduated law school, a trusted advisor steered her away from a career "in the courts" toward arbitration, where her natural talent ignited.
Nudrat found that she and other women had to struggle to make a place for themselves in the ADR world, not only in Pakistan but in the international sphere. She worked hard to become a successful international arbitrator, focused on commercial arbitration, including corporate construction and investment disputes. Eventually, she became the first woman partner in her distinguished law firm, even practicing international arbitration.
"I had an uphill struggle making a place for myself and venturing uncharted paths," she says. "As a woman, I have had to fight every step of the way. I have had instances where clients would reschedule meetings absent a male partner in the room. I have had instances where clients would prevent me from speaking in arbitration hearings on the pretext that I have a shrill voice."
While focused on developing her legal career, Nudrat has continued nurturing another passion in her life: helping Pakistani women who are uneducated, forgotten, and underrepresented.  Nudrat says that it was after witnessing first-hand the power of the law in bringing about social change and social justice that she decided to start her own web-based legal center to offer free advice to women who can't afford legal help. Unfortunately, Nudrat's exuberance for this project was met with challenges, including a lack of computer literacy among the women she hoped to serve. In spite of every roadblock, Nudrat persisted in her efforts.
In 2015, as a Fulbright scholar, Nudrat pursued an advanced legal degree at George Washington University, where she became the first woman lawyer from Pakistan to earn a Doctorate in Juridical Science (SJD). While working on her doctoral dissertation on international investment arbitration, Nudrat was accepted as a 2018 Weinstein JAMS Fellow. Through the mediation training provided as part of her Fellowship, she discovered the value of the non-adversarial process of dispute resolution. Mediation training equipped Nudrat with critical new skills and expanded her potential to make a difference in her native Pakistan.
"[Training as a Weinstein JAMS Fellow] made me aware of the human side of mediation and arbitration," she says. "I started thinking about the issues [facing] Pakistan and how much [of an impact] these peaceful means could have, not just on dispute resolution, but on dispute prevention, which is critical to peace …and critical to Pakistan."
Nudrat's personal and professional accomplishments are inspiring to many. Upon completion of her studies in the U.S. in 2020, she returned to Islamabad as the first and only woman in Pakistan to have earned an SJD. She is the first lawyer from Pakistan to be appointed as a Fellow to the Chartered Institute of Arbitrators, UK (FCIarb). In 2018 she was nominated to the panel of arbitrators at the International Centre for Settlement of Investment Disputes (ICSID) by Pakistan, and subsequently only the second individual from Pakistan to be appointed to ICSID Annulment Committee. Her doctoral dissertation on interpreting most favored nations clauses in arbitration provisions has just been published as a book. She is currently an Equity Partner in the firm, Samdani & Qureshi, a collaboration with Anderson Global, where she continues her work in international arbitration. She also advises the government of Pakistan on improving the existing investment regime. Most recently, Nudrat was recognized as the "Best ADR Lawyer" during the inaugural Women in Law Awards 2020-21. These awards were organized by the Women in Law Initiative Pakistan, a pioneer collective working for equal opportunity for female lawyers.
In spite of Nudrat's accomplishments and her many "firsts" as a woman in Pakistan, she remains painfully aware of the gender inequities in her country. In 2020, the World Economic Forum ranked Pakistan among the lowest of all nations for gender parity: 151 out of 153. Nudrat's own work experience reflects this reality. She is still most often the only woman at the negotiation table, something she's eager to change, along with more fundamental gender inequities that affect women in Pakistan.
Says Nudrat, "I want to serve as a mentor and inspiration for other women wanting to enter the field of ADR. It is an area of the law particularly apt for women, given the issues with their appearances in the courts. I would like to establish training and mentorship programs for Pakistani women in collaboration with international organizations and affiliations."
Inspired by her time as a Weinstein JAMS Fellow, Nudrat recently launched The International Centre for Appropriate Dispute Resolution and Prevention. The Centre seeks to institutionalize ADR in Pakistan to ease the 2 million cases currently pending in the court system. ² To this end, the Center is also looking to provide training in advanced ADR. In addition to alleviating the case backlog, these efforts aim to bridge the social and financial divide that separates Pakistani women and the nation's poor from those with privilege.
"I want to create efficient legal systems in Pakistan and have system designs which could revolutionize the legal system in Pakistan through e-courts and ADR. I think this would create access to justice, not only for women who have a lot of difficulty getting their rights enforced, but generally to everyone who is looking for justice in dispute resolution," says Nudrat.
The establishment of Nudrat's International Centre for Appropriate Dispute Resolution and Prevention is the realization of her vision as a Senior Fellow of the Weinstein International Foundation. "I have set up an ADR center with a view not only to resolve disputes but to prevent disputes. ADR, including mediation, is now part of Pakistan's legal framework. I am inspired by the role ADR systems are playing in many countries like Africa, Turkey, and Italy, where courts suffer similar problems as in Pakistan. Because of my training and exposure to multiple jurisdictions, I want to tailor-make a system for Pakistan to create access to justice for the socially marginalized by providing Court-Annexed ADR facilities and by providing effective ADR systems to promote access to justice, Foreign Direct Investment (FDI), and sustainable growth."
Today, Nudrat is living a life fulfilled, one which matches not only the lofty career ambitions her parents had for her, but also provides great personal satisfaction. With all of her credentials and groundbreaking success as a female arbitrator, Nudrat knows she could have chosen a different life and, perhaps, an easier one outside of Pakistan. "But", she says, "none of that could give me the fulfillment I get by effecting important changes in Pakistan, while also helping those in need."
Nudrat plans to continue following her heart by undertaking fulfilling work in Pakistan, inspired by her Fellowship experience and the accomplishments of other Foundation Senior Fellows. While perhaps not the pilot of her childhood dreams, Nudrat is reaching new professional heights as she boldly navigates uncharted skies to advance ADR practices in Pakistan.
---
¹ According to an 111-page report by Human Rights Watch: "'Shall I Feed My Daughter, or Educate Her?': Barriers to Girls' Education in Pakistan," many girls simply have no access to education because of a shortage of government schools – especially for girls. Nearly 22.5 million of Pakistan's children – in a country with a population of just over 200 million – are out of school, the majority of them girls. Thirty-two percent of primary school age girls are out of school in Pakistan, compared with 21 percent of boys. By ninth grade, only 13 percent of girls are still in school. See: Pakistan: Girls Deprived of Education, Human Rights Watch at https://www.hrw.org/news/2018/11/12/pakistan-girls-deprived-education (Nov. 12, 2018) accessed on Nov. 9, 2021.

² According to data issued by the National Judicial Policy Making Committee (NJPMC) in its annual 2020 report, there are more than two million cases pending in the Supreme Court, Federal Shariat Court, high courts and the district judiciary. See: The News International at https://www.thenews.com.pk/print/702243-over-2m-cases-pending-in-superior-lower-judiciary, (August 18, 2020) accessed on Nov. 10, 2021.